The Beekmantown Town Court has jurisdiction over small claims which are cases for money damages not exceeding $3,000. To file a small claim, you must be 18 years or older; otherwise, the action must be brought by a parent or legal guardian. The defendant must reside, work or have a place of business in the Town of Beekmantown. The filing fee is $10.00 or $15.00 according to the amount you are suing for.  A corporation may not file a Small Claim in a Town Court, but they may file one in a City Court.
Small claims are mailed by both "Certified Mail - Return Receipt Requested" and by First Class Mail. Therefore, a proper mailing address is required. Post office box addresses are not acceptable. You must also pay for the cost of mailing.
You may download the form needed to file a Small Claims by clicking the link at the bottom of the page.  However, you must bring this form to the Court in person. Do not fill out the section dealing with the date and time of the hearing. A Court Clerk will schedule the hearing when you bring the form to the Court. They will also assist you in filling out the form if you have any questions.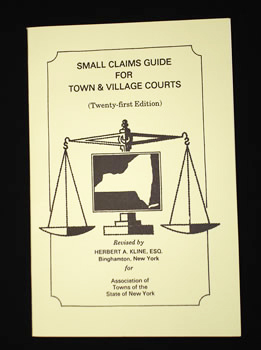 NOTE: A guide To Small Claims Court is in Adobe Acrobat format. You can click on the "Get Acrobat Reader" link below to download the program - there is no charge for it.