The Point au Roche Lighthouse
Beekmantown's Oldest Monument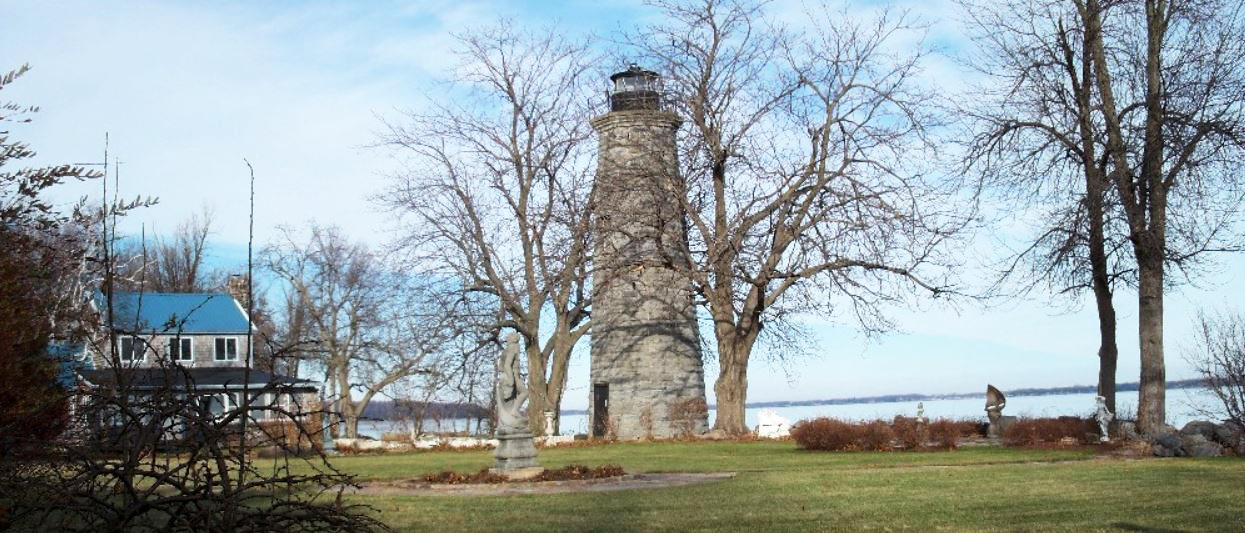 Under the shadows of the Green Mountains to the east and the Adirondacks to the west, since prehistoric times Lake Champlain has provided a gateway through the extensive ridge of mountains that run along the eastern coast of North America. Long used as a pathway for warring nations, the waters of Lake Champlain have also provided a means for the migration of people and the transporting of goods and products. Commerce on the lake increased substantially during the 1800's, particularly with the expansion of the New York canal system to the south and the construction of the Ogdensburg to Lake Champlain Railroad in the north. Lighthouses started to be built to help guide the way for the immense increase in the number of vessels plying the waters. After the first lighthouse was erected on Cumberland Head in 1838, it was determined several others were needed including one to get past the east-west reef and the easternmost point of Beekmantown. The Point au Roche Lighthouse was built in 1858. This lighthouse became known as one of the "three sisters," along with two others built that same year, one at Windmill Point and the other at Crown Point. Constructed of Isle La Motte Limestone, the Point Au Roche Lighthouse is an octagonal shaped structure with trapezoid panes. When in use, it housed a sixth order French lens with a fixed white light. The 50 foot tower had a focal plane 54 feet above the lake and was visible up to 13 miles. There was an attached Cape Cod style keeper's cottage of wood construction.   In 1934, the light was automated and all of the land was sold except for the 50 square feet on which the tower stands. The keeper's cottage was moved several feet to the north and became a private residence. In 1989, after 131 years of continuous service, the General Services Administration declared the Point Au Roche Lighthouse obsolete. It was put up for sale and replaced by a buoy light on La Roche Reef. After studies were done and several options were weighed, the lighthouse became privately owned. Currently there is no public access to the lighthouse. However, it can be seen somewhat through the trees on the Point Au Roche Road just north of Mooney Bay or more clearly viewed from the lake opposite La Roche Reef.  Although no longer in use for its designed purpose, the Point Au Roche Lighthouse was the first monument to be erected in the Town of Beekmantown and became a beacon of light showing the way for safety. It is a testimonial of a bygone era when sails and steam were kings of transportation and Lake Champlain was the main highway on which to travel.